Tracklist
| | | |
| --- | --- | --- |
| A1 | Attack Me With Your Love | 4:30 |
| A2 | Single Life | 6:32 |
| A3 | I've Got Your Image | 4:47 |
| A4 | A Goodbye | 5:41 |
| B1 | She's Strange | 7:21 |
| B2 | I'll Never Look For Love | 4:53 |
| B3 | Urban Warrior | 4:56 |
| B4 | Little Boys - Dangerous Toys | 5:04 |
Barcode and Other Identifiers
Barcode: 042282668110
Matrix / Runout (Stamped Side A): JABH 14 A// 1∇4 2 0 R 1 1
Matrix / Runout (Stamped Side B): JABH 14 B// 1∇4 2 0 P 1 1
Seller Terms
Current updates:
Changes in Tax and Customs for online selling platforms especially relevant to UK to EU sales:
According to Discogs guidelines all UK to EU Sales now require a Commercial Invoice attached to the parcel stating the sale value and showing the tax paid.
I am now following this advice to prevent customs seizing parcels and requiring further payments from buyers to release.
**If buyers have particular requests regarding shipping for a particular countries customs please advise me before shipping.
All reasonable requests are looked at but any further costs arising from this I can't be held liable for.
Couriers running as normal in most cases I check the following link. Some countries may be on suspension but I check regularly and will let you know if this is the case.
https://personal.help.royalmail.com/app/answers/detail/a_id/5317/~/international-incident-bulletin
(Below discounts - use one discount per transaction only)
LOYALTY CLUB DISCOUNT:
* ALL RETURNING CUSTOMERS RECEIVE 10% AUTOMATIC DISCOUNT ON ANY ORDER TOTAL VALUE.
BULK DISCOUNT OFFER:
** BUY 10 OR MORE ITEMS RECEIVE 10% OFF THE ORDER TOTAL **
*** Response time to shipping. Although I will do my best to pick, prepare, package and post your order in a reasonable time frame unfortunately I cannot guarantee that every order is posted within the expected time of every customer. I aim to have the item shipping within approximately 5 working days of either the payment pending date or payment received date (usually if not updated the same day 1-2 days max afterwards). Usually I will always alert the customer if there is an issue of any kind as soon as I can. If however in the exception its just taking a little bit longer than expected for whatever reason (usually exceptions like family commitments, emergencies, unexpected technical problems, delays with the postal service etc) please be patient with me. If you would like an express service please request it upon ordering and I will confirm this is possible usually this will be free of charge however in some circumstances due a high workload for example at the time of the request it may be an added small cost to cover expenses.
SHIPPING:
* VERY COMPETITIVE SHIPPING PRICES ON ALL ORDERS ESPECIALLY BULK ORDERS
THE MORE YOU BUY THE BETTER THE SHIPPING COST - QUOTES GIVEN FOR LARGE ORDERS
Please note orders over £40 in value are not covered as standard - guaranteed delivery is recommended.
Please note I have updated the shipping costs using the automatic shipping policies so please refer to that for exact costs. Below is the old shipping costs just to give a an idea of the kind of rates I charge at a glance.
- UK - '2nd class Signed for' = £2 Additional
- UK - '1st class Signed for' = £3 Additional
- Europe and Rest Of World - Confirmed (Tracked or International Signed For) = £6 Additional
- Europe and Rest Of World - Confirmed with Extra Insurance Coverage = £9 Additional
12" P&P :
----- UK -------- (Including N.Ireland) Purchases (Royal Mail Standard, My Hermes)
1-2 x12" = £3.95
3-5 x12" = £4.75
6-10 x12" = £5.95
11-15 x12" = £6.95
16-20 x12" = £8.95
21-40 x12" = £12
41-55 x12" = £15
60+ x12" = 2 parcels, add relevant prices above,
120+ x12"= 3 parcels, add relevant prices above.
OR / AND Please request Quote for Shipping Price
----- Europe -------- (including Ireland, Russia, Georgia) Royal Mail Airmail and International Couriers)
1 x12" = £7.95
2-3 x12" = £8.95
4-5 x12" = £11.72
6-8 x12" = £14.97
9-12 x12" = £16.25
13-18 x12" = £18.97
19-24 x12" = £19.72
25-30 x12" = £21
31-36 x12" = £23
37-42 x12" = £25
43-48 x12" = £27
49-54 x12" = £28
55-60 x12" = £34
61-80 x12" = £40
81-100 x12" = 45
101+ = please combine amounts above
OR / AND Please request Quote for Shipping Price
----- World -------
1 x12" = £9.75
2 x12" = £12.75
3-5 x12" = £ 14.95
6-12 x12" = £ 21.75
7-8 x12" = £ 27.20
9-10 x12" = £ 32.95
11-14 x12" = £ 36.95
15-19 x12" = £42
20+ x12" = £2.15 per 12"
50+ x12" = £1.75 per record
100+ x12" = please ask for quote
Paypal Invoice sent to customers using Paypal, I accept payment in foreign currency if required and I agree to accept, please notify if you would like to pay with another method. Paypal email / email is
[email protected]
UK Bank Transfer welcome, please leave reference name of the 1st record in order:
51-81-18 sort code
84532904 account number
T M Hickman account name
Money orders and cheques welcome however you must ensure it reaches me securely.
International Bank Transfers welcome. Under £100 no additional charge. Orders over £100 include an additional charge of £5 if a discount has been already been applied.
Records graded with experience and in an attempt to avoid disappointment. Packed securely to protect in transit.
Records with value colour inner sleeves separated and record in plain sleeve outside the cover to avoid damage.
Visually inspect all discs and clean professionally when appropriate. Listen to samples when I judge necessary
I always check the condition before postage and always retain the proof of postage. Once the item has left my hands, the responsibility is then transferred to the carrier.
Please make payment ideally within a couple of days to a week of the invoice sent. A maximum of 2 weeks if necessary if requested specially. If no payment is made within two weeks I reserve the right to cancel the order and any discounts or sale offers and relist the item for sale.
Thankyou
Tom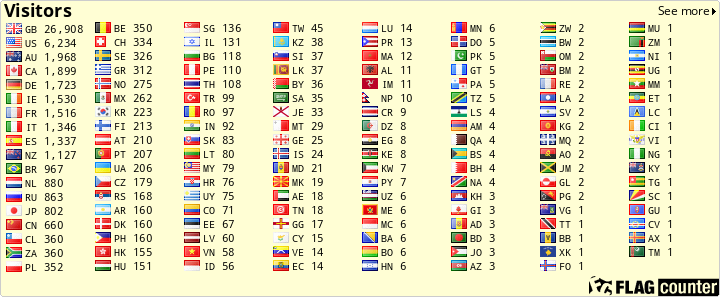 Recommended from this seller